Discover the range of Engiro IoT Hardware Platform
Engiro-A
Engiro-A IoT hardware platform is a powerful and flexible platform that enables you to quickly and easily develop and deploy IoT devices. The platform is based on a modular design, which makes it easy to customize to meet the specific needs of your application. The platform also includes a comprehensive set of software tools that make it easy to develop and deploy your IoT applications.
Reduced development time and cost:
The Engiro IoT hardware platform can save you time and money in the development of your IoT applications. This is because the platform includes a wide range of pre-validated hardware modules and software tools, which can significantly reduce the amount of time and effort required to develop your application.
Increased flexibility and scalability:
The Engiro IoT hardware platform is highly flexible and scalable, which makes it ideal for a wide range of IoT applications. The platform can be easily customized to meet the specific needs of your application, and it can be scaled up or down as needed.
Programmable using the Arduino IDE:
Engiro-A is a powerful and versatile platform that is perfect for users who want to create their own custom applications. It is easy to use, compatible with the Arduino IDE, and made up of a number of different modules that can be connected together to create a product that is tailored to the user's specific needs.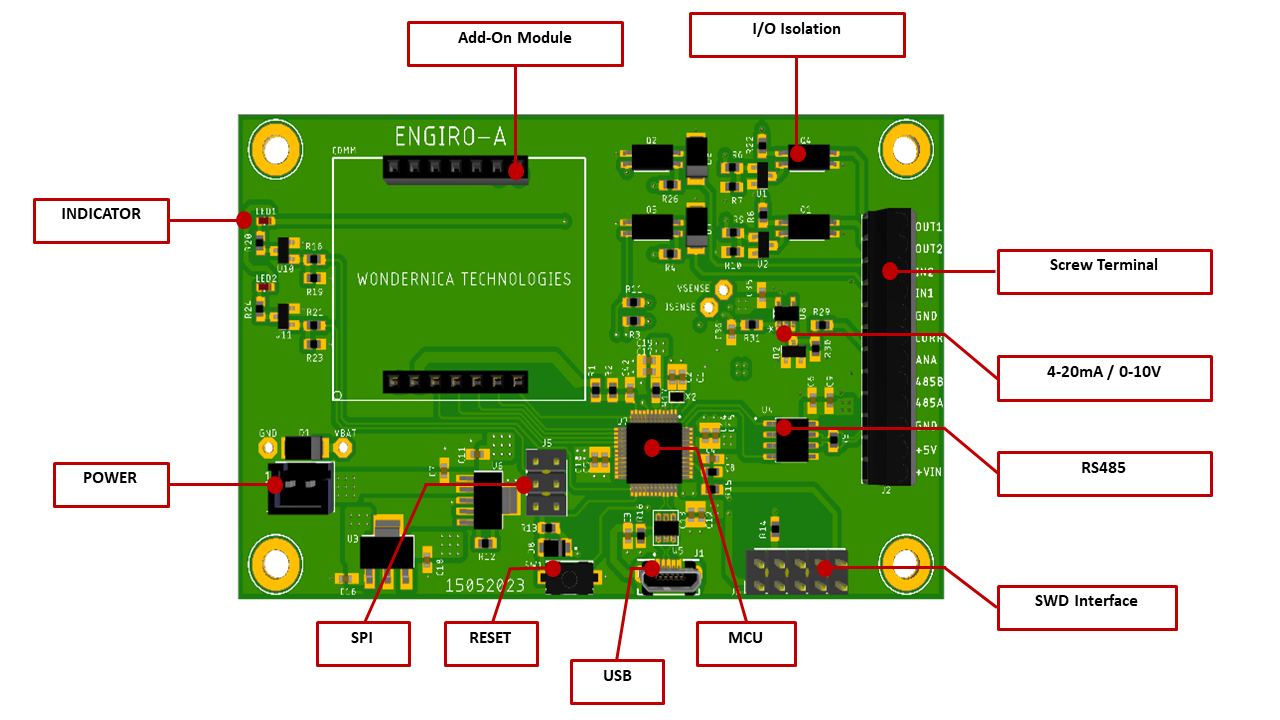 Need Product Development Services?
We can take your project from beginning to the end!
What's in the news are saying about us
Find out why our customers keep using our services
Start-up: From engineer to IoT entrepreneur
Cover by The Edge Markets a story about how the founder of Wondernica Technologies on his entrepreneur journey.


DigitalEdge: Start-up: From engineer to IoT entrepreneur

Tan Zhai YunThe Edge Malaysia
Agromon is smartening up agriculture, with the power of ESP32-WROOM-32.


Agromon: Smart Agriculture Using ESP32-WROOM-32U

Reporting from Shanghai, China
Wondernica's innovation approach to solving problems is very practical, creating fit-for-purpose solutions that met our requirements and allowed us to scale effectively.

Vicks KanagasingamCEO @ Censof Digital
I have been working with Wondernica Technologies for several years now, and they have consistently delivered high-quality and innovative solutions for our business. Their team is professional, knowledgeable, and responsive, and they always go above and beyond to ensure our needs are met. Their expertise in technology and software development has been invaluable in helping us stay competitive in our industry. I highly recommend Wondernica Technologies to anyone looking for a reliable and trustworthy partner in their business ventures.

Lavindar SinghCEO @ Satok Bridge Digital